Since I started creating a list of smaller busts swimwear, I've been really wanting to make one for the ladies with double D's and up! Swimwear is hard for everyone!! It's safer to buy in person, but that is not as simple as it seems. These are a list of places to get cute swim online! For more ideas and suits check out my Pinterest board here!!
What to look for:
subtle prints (nothing too bold)
sweetheart neckline
high neckline
sized in bra sizes
underwire
adjustable straps, not halter tie strap
You don't always have to follow these guidelines! If you love a suit enough, rock it!
Torrid ($-$$)

Black Strappy Bikini Top ($68.90) Sizes: 36-48 C-DDD

Tropical Wireless Swimsuit ($88.90) Sizes: M-6X
ASOS ($-$$$) (They have a line exclusive to DD-G!)

Lepel London Floral Balconette Bikini Top ($48) Sizes: 30-36 D-I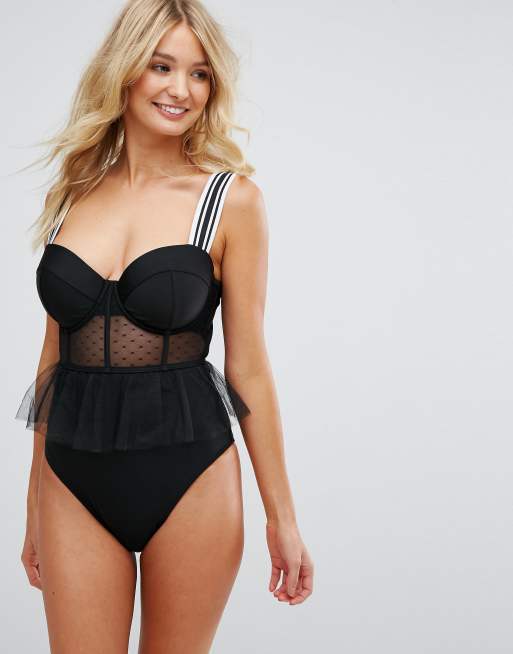 Mesh Tulle Swimsuit ($56) Sizes: 30-38 DD-G
Swimsuits for All ($$-$$$)

Gravitron Underwire Swimsuit ($114) Sizes: 10-24

Carnival Underwire Bikini ($102) Top Sizes: 10-24
Lepel ($)

Tropical Plunge Suit ($60) Sizes: 30-38 B-G
Plain Sailing Plunge Bikini Top ($43) Sizes: 30-38 B-G
Figleaves ($$)

Mesh Underwired Halter Swimsuit ($75) Sizes (UK): 30-38 D-G

Margarita Island Full Cup Bikini Top ($74) Sizes (UK): 32-40 DD-FF
Bravissimo ($$-$$$)

Formentera Swimsuit ($104) Sizes (UK): 30-40 DD-K

Cabo Bikini Top ($68) Sizes (UK): 30-40 DD-K
Rigby & Peller ($$$)

Pondicherry Padded Swimsuit ($245) Sizes: 34-40 B-H

Biloba Bikini Top ($148) Sizes: 34-42 B-H
Curvy Kate ($$)

Maya Halterneck Swim ($100) Sizes (UK): 32-44 DD-G

Ahoy Nautical Balcony Bikini ($75) Sizes (UK): 30-40 D-J
Where are your favorite places to get swimsuits? Leave them down in the comments below!!