If you need to figure out if your bra is fitting properly click here!
Hey! I wanted to start a new "mini-series" about shopping for smaller busts! This is my first post out of a couple I'll be doing. I've always been less fortunate in the bust area, which has been hard especially growing up. Since while all the girls around me kept growing, I stayed the same with my mosquito bites. Now it's just been something I've been trying to embrace, rather than drag myself down.
I started to work at a lingerie store this past year and realized there's a whole new world of bras than people assume. Since I've been working there, I've realized I've been wearing the wrong sized bra, all this time. It's not a huge difference but it has definitely made a change in how I comfortable I am, as well as how my girls look. I actually got rid of most of my ill-fitting and older bras and started new again. (Bras are only supposed to last 6 months to a year anyway, so it's probably for good.) I donated my old ones to both Savers and Soma Intimates, yes the bra store. (they actually donate to them to women in need.)
I've been looking for both everyday bras as well as more intimate lingerie pieces. Which with this list, I'm hoping will help me as well as some of you! Bra shopping is difficult no matter what size you are! But hopefully narrowing different stores that actually have your size will help. Buying smaller sizes as an adult woman is tough on self-esteem, especially when your band size is 28 & 30, and most companies just think those are for tweens. But, I know there are other women out there that want more sexy intimates rather than hot pink and hearts.
Keep in mind most of these are online only! All or most stores won't even carry sizes smaller than a 32A or even a 34B. I'll also add dollar signs telling how the price range goes to these places. As well as where I've boughten mine from! I also do not own any of the images.
Probably the most well known on this list. It's both online and a walk-in store, though keep in mind, they won't carry all their sizes in store. They start carrying at 32A and I don't know what they stop at. Online they start at band size 30 to 40, and their cups range from A to DD for the most part. (There's also a 32DDD, 34DDD, and 36DDD. And 32AA and 34AA). Aerie is definitely more everyday styles of bras and panties, they also have bralettes and swim. They also have sales a lot of the time so you can get a good deal on them!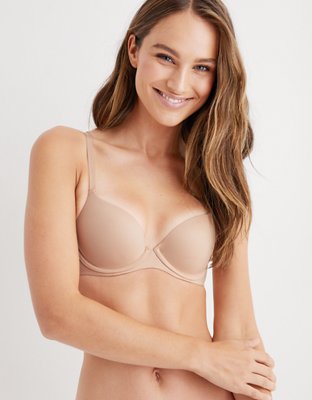 Sunnie Demi Push-up Bra ($44.95) starts at 30A
I do own this style of the Sunnie, and I love it. I honestly didn't even know Aerie carried 30 bands until one of my coworkers told me. But, it has a really nice shape to it since it has the demi cut as well as some push-up. This is my go-to push-up bra now!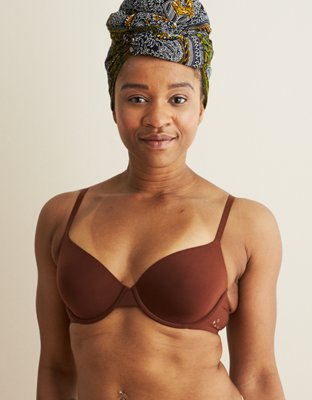 Real Me Full Coverage Lightly Lined Bra ($39.95) starts at 30A. LOVE how there are so many different nudes in this bra!
Before, I definitely have heard of their clothing more than lingerie, and was pleasantly surprised they have smaller sizes! Starting at bands 28 to a 46, and cups AA to K! (This is a UK brand, so keep in mind the sizes can be different.) Not only that but they have great deals too! They're more just bra/panties, with some super cute designs, but for sexier things, I wouldn't go here for them.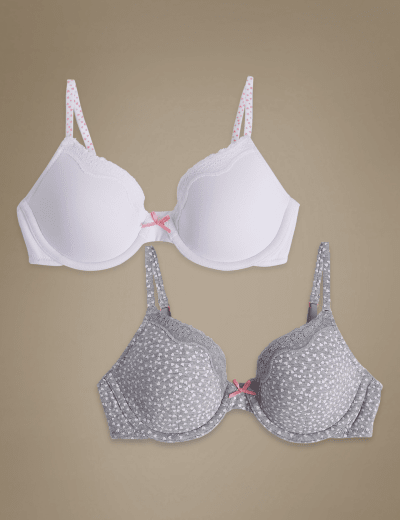 2 Pack Full Cup Bra ($28) starts at 28A. They have twin packs with two bras for the price of one!
Lace Padded Balcony Bra ($21) starts at 30B
This is one of my new favorite lingerie stores. If you have time look through their website, they have helpful tips for any type of difficult bra, like maternity and mastectomy bras. They have both bras and panties, as well as lingerie, I've actually been eyeing some of their basques, but I really don't need things like that haha. But, Figleaves is the first more lingerie stores on this list. Yes, they do have other things like swim and pjs, but they're more of a lingerie online store. They have the largest selection of bras on this list from bands 28-50 (50?? I didn't think they went that high) and cups AA-K.
Zoe Contour Balconnet Bra by Heidi Klum ($49) starts at 32A, matching panties ($33)!

Fiore Padded Plunge Bra by Lepel ($33) starts at 30B and matching panties ($17.50)
You've probably have heard of this one. If not, Adore Me is a monthly subscription box that you can buy a set of a bra and matching panties for $39.95 (or $49.95 if you're not a VIP). I believe they run from a 30A to 42DD. They also have swimwear, pjs and more intimate lingerie pieces as well. I don't have any pictures of their items since I don't have an account. And I don't feel comfortable showing my own stuff I wear. sorry!
I used to be a VIP for them and I loved it! The only reason I deleted my account was to save money since at the time I didn't need any more bras. But, lately, I've been deciding whether or not to reopen it, since I really do love their bras. For the bras, I have there's only been one that doesn't fit and wasn't that great, which I bought during a BOGO so I wasn't able to return it. I can't remember what it was called but it was a strapless multiway bra. But, all the other bras I bought from there I really like.
This was a really neat find, they have band sizes from 28-40, but only AAA, AA, A and B cups. And these bras aren't what you'd usually see for smaller cups, they're lacey and pretty. They mostly only have bras, since they are mostly just for the itty bitty committee.
Frivole Padded Balcony Bra by Wacoal ($70) starts at 30A to 36B
Alice Bra by Little Women ($40) starts at 30AAA to 40A
More of an adult store, but has really cute lingerie sets,  I only ever look at that section. Band 30-44 and cups A-H (some bands don't run in all cups). Also, I love how they have "guides" to help you figure out bra styles, fittings, and bridal lingerie help! You can find those here! 🙂
Gabriela Longline Bra ($49) starts at size 30B, garter belt ($37) and panties ($23)
Karmen Plunge Bra ($49) starts at 32A and the matching panties ($26)
Probably the most diverse on this list is ASOS, but I love this website. I've boughten several bras and panty sets as well as swimsuits from here. And the quality is awesome. Their bras run (for the most part) from 28A-48G, and they have anything you need at every different price point. Also, they carry some of the brands on this list as well as others so you can try out what brands you like at one stop. One stop shop!
Pearl & Lace Thong set by ASOS Premium Bridal starts at 30A; bra ($38), thong ($13), and garter belt ($26)
Abigail Floral & Lace Underwire Bra and Pant Set by ASOS starts at 28A; bra ($29) and panties ($16)
This is a big one in the itty bitty titty community! Since their sizes go from bands 28-38 and only have A, B, and C cups.These bras are beautiful!! Like omg, they really cater to those women who want to feel pretty and special with their lingerie. Also, they have a help guide too!
Francesca starts at 28A ($80) & panty ($34)
Yvonne starts at 28A ($60) and panty ($32)
I originally found this brand on ASOS, and have been tempted ever since. More of an everyday wear, with a couple special occasion pieces. They range from 28A- 40D in the smaller section. They do have a larger busted section too, but I figure I can focus on that another time.
Cinthia floral plunge bra ($52) starts at 28C and panty ($29)
Annie lace halterneck ($58) ($23) starts at 30A and panty ($10)
This is my all-time favorite lingerie store! So obviously I had to include it. And they are definitely three dollar signs for a reason. The cheapest thing on their website is a wedding garter for $45, and their most expensive item right now is a lingerie body chain piece for $3,395! But, these pieces are gorgeous and the prices are like that for a reason, I mean look at them!! They run between 32A-36E (DDD) and I believe they do run a little tighter than most places.
Though after saying that, I do own one bra from here. I got it at one of their outlets for 85% so I got it for only $40, which is reasonable for a bra anywhere! The fit is perfect for me, I got a 32B, and I'm usually a 30B. But, one of the women there helping me did tell me they run smaller, and it was true. Though I'm not sure about their sister brand L'Agent and if they run the same or different. It's one of my favorite pieces I own in my clothing collection since this is one of my favorite brands overall.
Demelza Bra Black ($215) starts at 32A; suspenders ($285) and panty ($165)
Julie Bra Peach ($250) starts at 32B; suspenders ($250) and panty ($215)