I've been working in a lingerie store for almost a year now, and I've come to learn so many tips on how to fit bras properly. We get a large range of sizes of women to get themselves fitted. But, all bras are fitted the same. And everyone has troubles with fitting in bras. If you need help finding your correct sized bra, go to a boutique to help size you. (This is much easier than doing it on your own)
Places I know that helps in fittings (you can always call around to make sure):
-Aerie
-Lane Bryant
-Hanes
-Soma Intimates
-Victoria Secret
-Any specialized bra boutique near you
Onto the fitting… I'm using my sewing mannequin though she isn't in my complete proportions she will be fine. She's just a little larger than me around with a smaller bust. But I'm not comfortable showing ya'll my chest. Too much. Also the other photos are not mine!
How to check if the bra is fitting:
1. No gaping or spilling out over the top of the cups…. the bra should lay smoothly over your bust
-With push-up's, it's a little harder to tell, since your breast is lifted, but the cup should be as smooth as possible
-If it's gaping: cup size down
-If you're spilling: cup size up
2. ADJUST THE STRAPS- it makes a huge difference
-When the straps aren't tightened enough, they can fall off the shoulders and create gaping in the cups
-If they're too tight they dig into the shoulders and can lift the cup up too much

-When the straps are adjusted correctly, it can lift the cup and breast up as well as make the cup flush to the skin more
3. You should be on the very last hook in the back (the closest to the end of the bra, not the bra itself)
-The last hook is the true band size
-By doing this the more you wear a bra you are able to tighten the band the more it stretches out
4. The band itself should be smooth across your back, not bunched up or stretching, and feeling like it's not supporting
5. The band should also be parallel across your back. If the band is riding up your back, it is too big of a band
My mannequin is actually a little bigger than I am so you can tell it's not correctly fitting. The band is stretching to fit around her, making it lopsided. Also, the hooks are being stretched as well. If she wasn't made from plastic, it would be digging into her.
6. If you're worried about that side flab/armpit fat…
-Everyone has it, just as you grow older it may sag a little more
-It's actually part of your armpit, if you raise your arm it's not there anymore
-The bra isn't supposed to cover this since the bra's job is to cover and support your breast
See even Kate Upton has it. You're okay, it's normal!
7. If you're older, or fuller in the bottom, try an unlined bra. If you're worried about your nipples showing through you can try a lightly lined bra
-Unlined bras shape to your breast shape, rather than your breast filling the molded cups
-This creates a much better shape, and you won't gap as much, especially in the correct size
Retro Chic Bra (unlined) from Walcoal sold from Nordstroms (sizes 32D- 46H)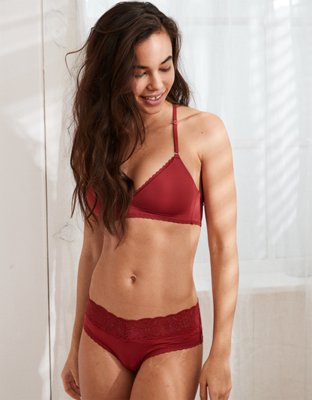 Starts With You Wireless Bra (lightly lined) from Aerie (sizes 32A- 38D)
8. If you have back fat, or what to feel more supported around, try a bra with a higher band
Invisible Back Smoother from Lane Bryant (sizes 36C-46DDD)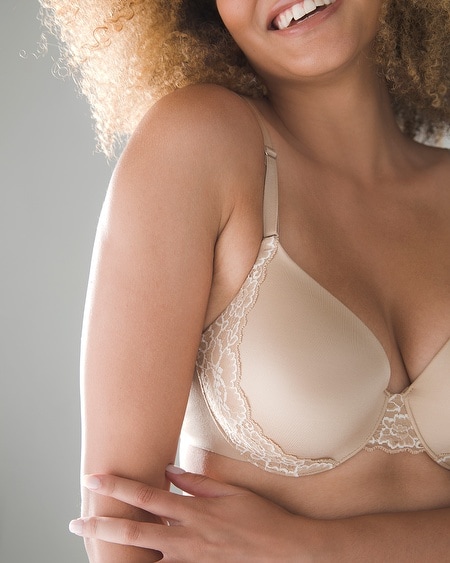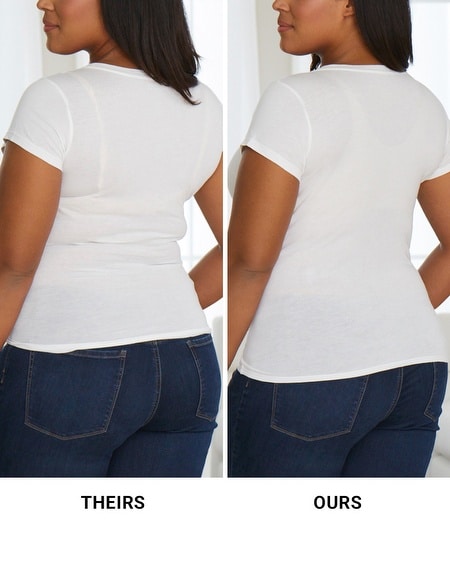 Or The Vanishing Back from Soma Intimates (sizes 32C-44G)
9. Cheap bras, from Walmart or other places, will wear out easier and faster! If you splurge a little they will last longer. And they're definitely more comfortable.